Unlocking the Potential of Parents in the Contingent Workforce
A report collaboration including
Industry Leader Best Practices


It's no secret that moms are looking for a more flexible, supportive, inclusive work environment with competitive compensation. We've seen that people can thrive working outside of the office. Yet many companies lack tangible solutions to provide the flexibility that moms need to truly realize their potential. They do so at their detriment, because we know that when mom thrives, business thrives, and society thrives as a whole. Good for moms is good for business.
In this report, we look at some of the barriers companies experience in accommodating what moms seek from employment and their employers. The lens is extremely unique: a report from moms' perspectives coupled with various companies' perspectives about the state of work. Because of this, the report offers the unique ability to identify the gaps and inconsistencies of the two data sets, offering real strategies for learning and resolving the gaps that exist. While not every barrier can be entirely removed, leaning into empathy and value towards what parents, specifically moms, require out of work is critical—and attainable.
To access the report, fill out the form.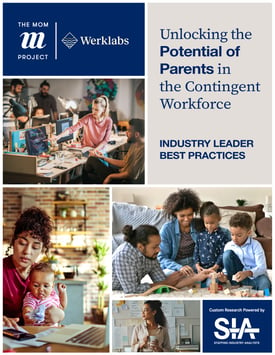 These are a few examples of skills you'll find in our community, but there are many more!